DISCLAIMER: I decided to review this book here since all the other books in the series are reviewed on Deliciously Clean Reads. However, I do not consider Breaking Dawn a Clean Read. It's full of vampire sex and talk about sex. Every family, of course, must make their own decisions about what books to read, but since a find myself a bit of an advisor when it comes to what is clean...I don't think this book is appropriate for anyone younger than 18. That is my personal opinion.
For the purpose of this site, I have set strict guidelines on what is clean and what is not. Breaking Dawn would not make this cut, but I wanted to discuss it here since I was such a huge fan of the saga until this book and I know many others who were as well.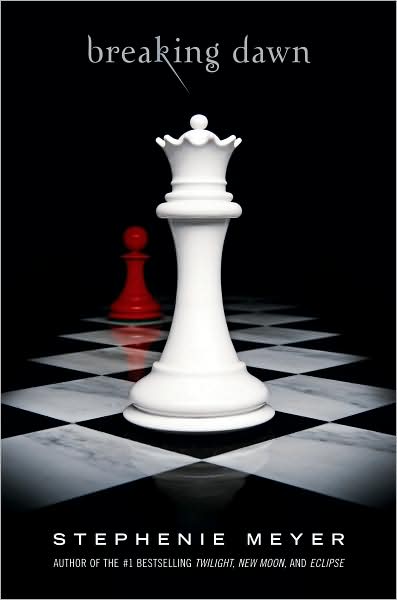 There will be spoilers here, so you know, GO AWAY if you don't want to see them. Consider yourself warned.
And...I enjoyed it...but I'll be the first to admit it was out-there and a bit too wacky at times. I didn't read it obsessively. I claimed that I was trying to be a normal human and not lock myself up for three days, but the truth is, I didn't find it as compelling as the others.
The first three Twilight books drew me in with their promise of passionate, forbidden love. In Breaking Dawn, love is no longer forbidden. It comes easily for Edward and Bella.
Of course, that doesn't mean Stephenie Meyer wrote a 750 page book without conflict. Plenty happens. It just isn't pulling Edward and Bella's epic love apart.
(Big spoiler here...) The whole pregnant thing was so weird. Maybe because I am pregnant and that is just not how pregnancy works. Then, as if it couldn't get weirder, Jacob imprinted on the baby! I think I screamed out loud when I read that part.
Finally, Meyer built up for the greatest battle scene yet in the Twilight books and then just let it fizzle out without an ounce of vamp action. I admit, though I'm into the series for the mushiness, I was disappointed not to see a battle.
Anyway, I know there are a lot of mixed reactions on-line. Maybe we have built the series up so much in our hearts that nothing would satisfy.
I liked the book. I'd still recommend the series to upper YA and adults. As for being clean read material, Breaking Dawn does include a honeymoon. It gets a bit steamy as it has before, but it certainly doesn't go into detail. I wouldn't recommend this book to young teens, though. It's just too mature.